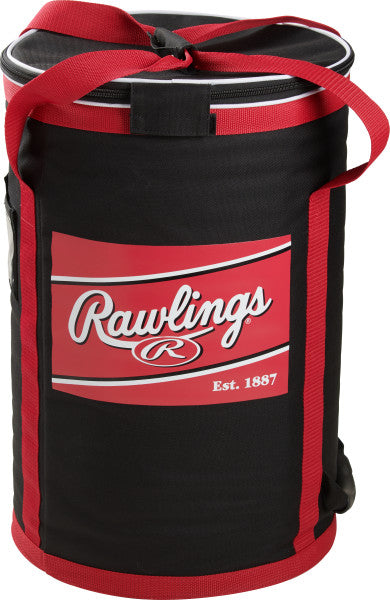 RAWLINGS SOFT-SIDED BALL BAG
The Rawlings soft-sided ball bag is perfect for any team looking for a new bag to hold all their balls. Its sturdy design holds up to 72 baseballs or 36 softballs. Buy yours now!
DESCRIPTION
The Rawlings soft-sided ball bag offers a large, sturdy design for ultimate storage. It can actually hold up to 6 dozen baseballs, or 3 dozen softballs, which is more than the average ball bucket! The two carry straps were also designed for easy carrying, even when the bag is full.

In addition, it features a durable handle on the bottom making it easier to dump balls out. It's also equipped with a removable top panel to add team customization for the perfect touch to the black/red design and Rawlings patch logos. As a result, you'll have it easy carrying all your baseballs or softballs around, and getting them ready to use too. Stop carrying those clunky, plastic buckets around, order your soft-sided ball bag today!
SPECIFICATIONS
Color:

Black

Sport:

Baseball, Softball

Capacity:

6 Dozen Baseballs; 3 Dozed Softballs

Dimensions:

21.25" L x 13.5" W x 13.5" H

Removable Panel:

Customizable Top Panel

Usage:

Ball Bag

Compartments:

Durable Handle on Bottom, Identification Card Holder